It is a wonderful toy ideal for creating drawings 
Now you and your kids can enjoy instant paperless drawing, writing and designing that lights up and features tons of amazing effects!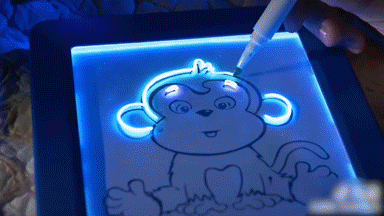 MAGIC PAD!
✏️ The Magic Board is a luminous LED tablet that encourages your children's creativity by combining its innovative design with educational templates to learn by playing.
✏️ The new way to trace, draw and create.
Learn Drawing:
✏️If you want your children to play while stimulating their creativity, you have found the right place
✏️ The magic blackboard that is causing a rage among children: it's fun, it's surprising and most importantly, it helps them grow mentally.
DRAW, LEARN – REPEAT.
Not happy with what you're drawing?  Wipe it clean with a dry cloth for an instantly blank canvas, ready for your next idea.
Magic Pad is a great tool that provides a clean and fun way for children to explore math, spelling and reading.
Ideal Size:
✏️ Works with 3 AAA batteries not included.
It has 8 light effects.
✏️ Material: Polypropylene.
Your package includes:
✏️ x1 tablet with integrated support.
✏️ x3 double-ended neon markers (NON-toxic).
✏️ x30 templates.
✏️ x01 cleaning cloth.
✏️ x1 game guide.