The perfect sticky board for your daily needs 
An ideal choice for your kids
You can use it in the kitchen 
It will benefit you in your office 
The best solution for billboards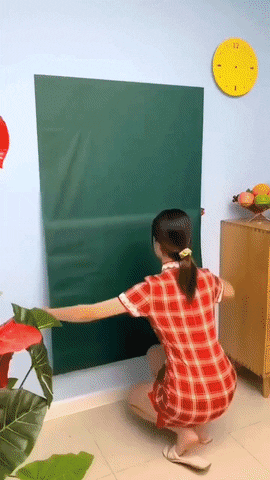 This is a modern way to complement the interior design of your home or business. 
And it's fun for kids and adults.
Self-adhesive, waterproof and removable, suitable for most flat smooth surfaces without leaving residue
The poster can be cut into small chalkboards or multiple posters can be combined to make a giant chalkboard.
HIGH QUALITY: This PVC chalkboard sticks to all smooth surfaces, quick to apply, easy to cut, residue-free removal
EASY TO USE: Frosted cover makes it writeable with chalk. Great alternative to chalkboard labels and labels. 
 Chalkboard sticker for home, office, studio, cafe or restaurant use, saving your space and providing convenience.
Waterproof, you can wipe it with a damp cloth 
Suitable for

all types of surfaces 
Name:

Black board sticker
Note:
Some wall paints are designed to resist stickers, please check before purchasing. 
Freshly painted walls are not recommended. 
The texture of the wall sticker is smooth (not as rough as the ordinary blackboard surface in classrooms.)
Please avoid direct sunlight, because sunlight will result in bubbles under the stickers. 
It is better to wipe the chalk on the board with a damp cleaning cloth, and please write when the board is dry.