High Tech Rotating Magic Ball -🛸Let your child feel the power of magic🛸
This gesture controlled flying rotor drone will provide hours of family fun. 
Neon LED lights lining the exterior and interior of the Spinner make it an eye-catching toy and great fun to play with at sunset.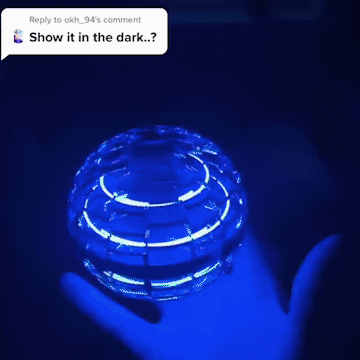 A PERFECT GIFT FOR KIDS, yourself, or drone lovers you know!
Take it anywhere (anytime). Small enough to fit in the palm of your hand, play with the Flying Spinner Drone whenever you feel like it
(whether it's in the kitchen, backyard, beach, or park).
Release it and watch it fly, float, glide, and climb before it gracefully returns to your hand like a boomerang. Physics in action!

Great entertainment for all ages! Without a doubt, a product that cannot be missing in your toy box.

Flying a drone has never been so much fun!
 Kids and parents all over the world love this Spinner Drone! Great toy for family bonding activities!
MAIN FEATURES:
Launch your Spinner Drone into the air and watch it gently curve through the air to meet your original launching hand. If it does. 

COUPLE GAMES: Kids can play together, get some exercise and build friendships~
SAFETY FIRST: The Flying Spinner Drone features a closed orb aerodynamic design that gives it that smooth flight when you launch it. 
Your hands are always 100% safe when it comes to this floating boi.

DURABLE: Durable, orbital design protects the Drone from trauma caused by bumps, drops, and other forms of blunt impact. 
Keep the good times spinning.

Safe, odorless and harmless, certified by multiple agencies.
Material: plastic

SIZE: 95*95*95mm
Suitable Age: 

Children must be over 6 years old.
Press the power button to
1. Tilt it up 30° and push it forward, it will cycle and return
2. Push forward horizontally and it will float forward or down with inertia
3. Tilt it down 30° and push it forward and it will dive
4. Turn on the switch horizontally and release your hand when turning, it will hover or rise slowly.
PACKAGE INCLUDES :
1 × The Madic Drone
1 × USB PowerCord
1 x Instructions
1 x Color box