Looking To Spoil Your Little One With A 'NEW' Gift?
Get the only bath toy you need to put a smile on your little one's face…
That makes all your hard work as a busy parent worth it.
"I got this bath toy in hopes to make our bathtime more enjoyable with my baby, and it has done its job!!" – Steph E
110% guaranteed to make your bath time 3x better or your money back. No questions asked.

Blows Water Like A Real Whale
It's hard nowadays to get little ones interested in baths.
Especially when you are working with boring duck toys that simply float.
Order yours today to spoil your little one with a whale-watching adventure.

Drive in Omni-directions
It can be turned into a Space UFO toy after being placed on the base, singing, and driving in Omni-directions.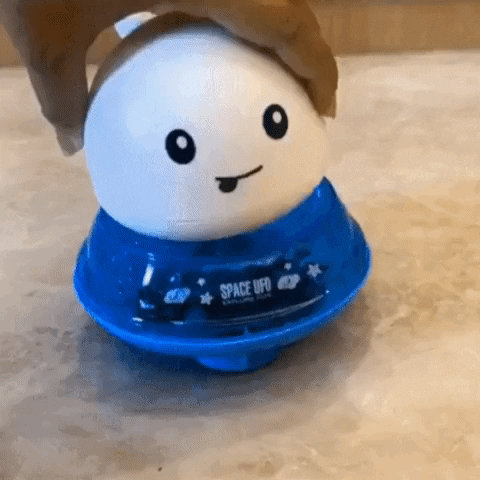 'Mood-Lifting' Disco Lights
Just imagine your little one's excitement when you turn off the light switch.
It's a perfect sensory development toy for your little one.

Waterproof & Safe For Babies
Maybe your little one is prone to whack or kicks anything in their sight.
The battery box is watertight and sealed with durable silicone covers to prevent leakage.

Frequently Asked Questions:
Should I be worried about molds?
Nope, if you remove the battery compartment and air dry the area after every use, you wouldn't have any issues with any molds forming.
How do I use this toy?
Simply follow the five easy steps below to use our whale bath toy.
Open the battery compartment with a small screwdriver
Install 3X AAA batteries (not included) in the bottom.
Close the battery compartment sufficiently tight.
Drop the toy on the water.
Finished? Remove it from the water, and it automatically turns off.
(Note: When not in use, please shake the water out and wipe the snout.)
How does it work?
Our whale bath toy has a built-in sensor at the bottom which sucks the water and sprays it from the top.
It also flashes in multiple colors at the same time which is perfect for sensory development.
Is it safe for my baby?
Absolutely. We put extra care and attention into designing our toy to ensure no water gets in the battery compartment — your little one's safety is our priority.
What are the specifications?
Material: ABS plastic
Dimensions: 4.3″ x 3.9″ x 3.5″ inches
Batteries: 3X AAA (batteries not included)
Color: Comes in gray and white